UPDATE:
MEETING OFF. The clash between the Gladiators and The Pirates has been postponed due to adverse Weather Forecast.
The RE-STAGING date is Tuesday 20th September at 7.00pm.
The Plymouth Westcolour Gladiators are hopeful of staging their rearranged Play Off Quarter Final against the Poole Pirates at The Coliseum this evening – Tapes Up 7.00pm
The original fixture was called off early last week, following 3 days of heavy rain in Devon which flooded the track and caused disruption around the Ocean City.
The reverse fixture at Poole on the following night was also called off, albeit at very short notice following a thunderstorm in the vicinity of the Poole track.
Both sides will be eager to complete the two legged tie over the next two days and the Plymouth Promoters have taken every possible measure to get the fixture on by installing covers on parts of the track most susceptible to flooding by rain.
There can also be an issue with high tides at this time of year from the adjacent tidal River Plym, but the Club are confident that they have done all they can and the track was "bone dry and in excellent condition" according to reports from Promoter Mark Phillips on Monday afternoon.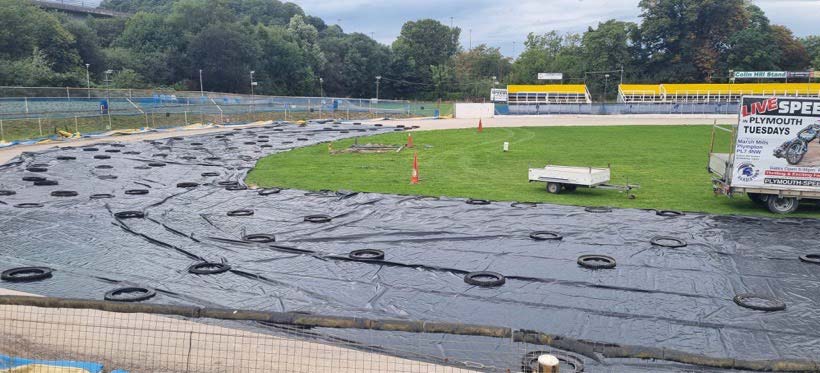 The Westcolour Gladiators will bring in guest riders to replace the injured Edward Kennett and Michael Palm Toft and with Ben Barker suspended until the end of march 2023, they will operate the Rider Replacement facility to cover his rides, meaning any rider in the side can take a ride each to cover for his absence.
Multi British Champion and ex-Speedway GP star Scott Nicholls guests in place of Kennett and the in-form Australian Justin Sedgman comes in to replace Palm Toft. Hans Andersen returns from injury, with the postponements last week having the silver lining of giving him an extra week to recover from his shoulder injuries.
The Plymouth Westcolour Gladiators line up-:
Scott Nicholls (Guest)
Ben Morley
R/R (for Ben Barker)
Justin Sedgman (Guest)
Hans Andersen
Lee Complin
Connor Coles
——-
The Club would like to confirm that contrary to initial suggestions, that SEASON TICKETS are VALID for this fixture to replace the League Fixture that was lost when Newcastle pulled out of the Sport in early summer. SEASON TICKETS should be shown at the turnstiles as usual. The Club will contact ALL Season Ticket Holders to confirm this today.
There will be the time-honoured Moment of Reflection for Her Majesty Queen Elizabeth II prior to the Match following her sad death last week, which we are sure that all Supporters will welcome and respect.
———
Tickets are available ONLINE now via our Online Ticketing Portal here:
Those holding pre-booked ONLINE Match Tickets from last week's cancelled Fixture or the earlier cancelled Fixture v Glasgow, can use them for this Fixture. Please bring proof of Purchase (paper or electronic copy along with you. Those who paid on the Night v Glasgow who hold Re-Admission Tickets can also use them to enter this Fixture but you must ensure that you have the Ticket Stub with you.
Tickets are also available via Cash + Card on the night, but the best way to secure a Seat in the NHS STAND (Home Straight) is to book early ONLINE. The First Bend VIP Stand is already SOLD OUT.
We should also point out that DISABLED Carer Free Tickets are no longer unfortunately available ONLINE. A small but not insignificant number have been abusing this FREE Entry privilege in sufficient numbers to be detrimental financially to the Club. The FREE CARER Offer is still available but via Cash Payment on the Turnstiles for ONE Free Carer where the Disabled person will require Proof of Disability in the form of authorised documentation from either a qualified NHS Doctor / Consultant or the relevant DWP paperwork. We are sorry if genuinely Disabled persons are impacted by this but unfortunately a number who do not have the Clubs interests at heart have resulted in this regrettable procedural change. It is also not fair on the vast majority who invested their hard earned cash in the Club via Season and Match Tickets honestly each week.
——–
PLEASE NOTE – Access by Card payment at the Stadium is by accessing the Clubs Online Ticket portal on a suitable mobile / android device. There are no specific Card readers. If you do not have a suitable device to allow your secure Card payment to be collected on the Gate, or before you enter from the comfort of your Car in the Park + Ride Car Park (using this link ) there is a secure CASHPOINT at McDonalds Restaurant which you pass when turning in to Coypool Road
A POLITE REQUEST has been made by The Club Management and Turnstile / Entry Staff. It would be appreciated if you could please have EXACT CHANGE for Admission and Programme available if at all possible to avoid delays, especially at peak time between 6.15 and 7.00pm. It would also be very much appreciated, that if you are Entering by Car with multiple occupants, if one person in the vehicle; could collect the Money for Admission and any Programmes and the Car Park Fee to hand over to Gate Staff, as to process one overall transfer of Money will be a lot speedier than 2,3,4 or even 5 separate transactions. Your cooperation in this matter to help speed access for all and to avoid queues and to improve the Customer experience for all. THANK YOU
As always you can be the vital 8th man and the lads would very much welcome your vociferous and enthusiastic support once again, so please bring along a friend and help us to show everyone what a wonderful night of entertainment we get every Tuesday at 7 pm at The Coliseum. The past few weeks have been tremendously difficult for us all with injuries, some controversial decisions going against us and some utterly mindless vandalism that will cost many thousands of pounds to replace let alone the stress it causes Mark and all of the wonderful support Team.
PLEASE rally around the Club and The Team, bring a friend and spread the word .Your support is always worth extra points and together we can beat all the odds and celebrate success together at the end of the season. These are tough times and in tough times the tough get going and there's no one tougher than your Promoter, Team Manager and Team…. lets all join in and beat the odds together. #GladiatorsREADY
Gates Open 5.30pm
Pre-Match Rider Parade 6.50pm
Tapes Up 7.00pm
There are numerous Food and Drink (Alcoholic and Non Alcoholic) outlets around the Stadium serving locally produced products.
Numerous Toilets / Disabled Toilets and Washing Facilities
Our new for 2022 Track Shop is doing a roaring trade with NEW lines every week and well worth a visit.
Car Parking onsite £2.00
36 page Colour Programme £3.00
Main image Credit: Daniel Westlake