Online Ticket Store
Two forms of 2022 SEASON TICKETS are now available.
The combined (Gladiators Championship & Centurions NDL) Season Ticket covers all 10 Championship fixtures, three Summer Cup fixtures and the first round of the KO Cup, plus all 7 scheduled Centurion home fixtures.   
The Championship only Season Ticket includes the 14 Championship fixtures mentioned. Both season tickets include free car parking.
Season tickets are provided for Area 1: NHS Home Straight Stand only and Area 2: All Other Areas with the exception of the Disabled Platform Back Straight (defined as either of the 2 Stands on the Back Straight) & Flyover Bend (defined as 3rd/4th Bend grass and temporary Seating Area) + 1st Bend Seating and Terracing, plus Diasbled viewing area.
Click on the image below to launch the secure portal. Scroll down to view pricing.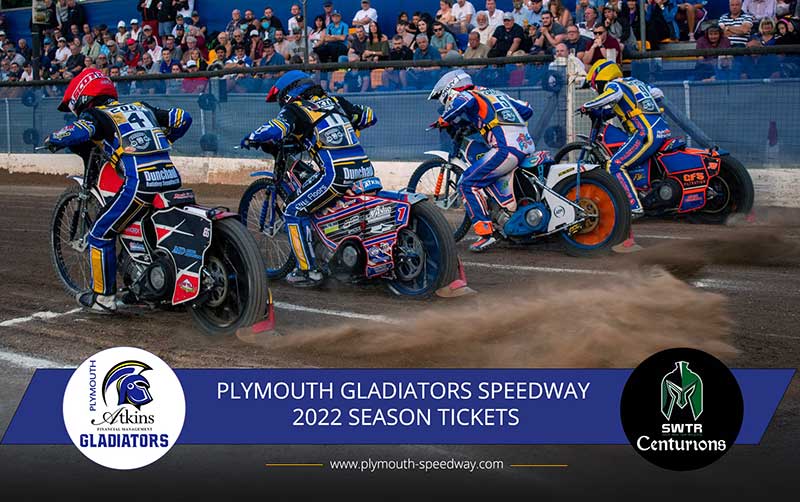 2022 SEASON TICKET PRICING
COMBINED CHAMPIONSHIP & NDL SEASON TICKET (included free car parking)
AREA 1 – NHS HOME STRAIGHT STAND:
Adult: £340; Child: (12-16) £140; Under 12 – Free
AREA 2 – All other Areas
Adult: £300. Child (12-16):  £130,   Under 12 Free
FREE (Children Under 12 MUST BE REGISTERED as a SEASON TICKET Holder and Proof of Age will be requested subsequent to application. Age is deemed to be age on DATE OF PURCHASE of the Ticket
CHAMPIONSHIP SEASON TICKET (includes free car parking)
AREA 1 – NHS HOME STRAIGHT STAND
Adult: £270 Child (12-16): £110 Under 12 – Free
AREA 2 – All other Areas – Adults: £240. Child: (12-16): £90 Under 12 – Free
(Children Under 12 MUST BE REGISTERED as a SEASON TICKET Holder and Proof of Age will be requested subsequent to application. Age is deemed to be age on DATE OF PURCHASE of the Ticket)
2022 INDIVIDUAL CHAMPIONSHIP MEETING PRICES:
Adult Seated: £20 (Area 1 NHS Stand)
Adult Standing £18 (Area 2: All other areas)
Child: (12-16) £8
Under 12: Free (Proof of ID may be required)
2022 INDIVIDUAL NATIONAL DEVELOPMENT LEAGUE MEETING PRICES:
Adult: £15
Child: (12-16) £6
Under 12: Free (Proof of ID may be required)
Stadium Car Parking – £2.00
Match Programme – £3.00