Plymouth Gladiators have filled the seventh and final spot in their team for 2023 by recruiting New Zealander Jake Turner at reserve.
The 26-year-old, who hails from Auckland, recently came second in the National Karate South Australia championship to Rory Schlein and that qualifies him for a Visa to race in the UK for the summer.
With the Gladiators searching the globe for the final piece of their jigsaw for the new season, they approached Turner to join for the summer – and he wasted no time in saying yes.
"I am delighted to get signed up and can't wait to get going," Turner said. "I moved over to Australia two years ago from New Zealand on my own, away from my family and I just wanted to work towards the state final and then try and get something over there (the UK) so it has worked out good. It should be a fantastic opportunity.
"I rode in the state finals and then I woke up next morning and had a message from Garry May. I was pretty stoked about it and looking at the team, it looks a strong team, so I hope we can do things this year."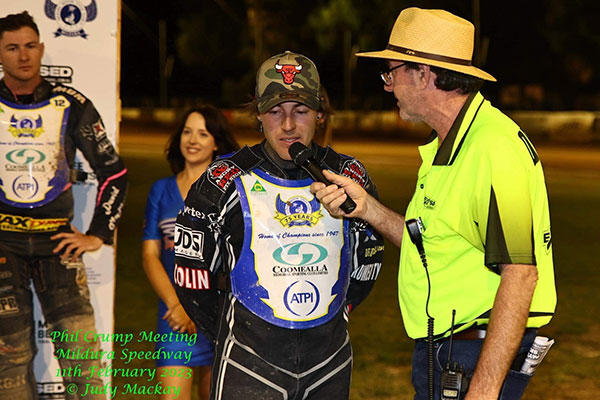 Turner will come in at reserve, where he will join Plymouth's very own Ben Trigger, while the top five certainly look strong with Kyle Howarth, Richie Worrall, Ben Barker, Paul Starke and Dan Gilkes on board for the new campaign which starts with Starke's testimonial meeting at the Coliseum on Tuesday, April 4.
"Riding in the UK is something I have wanted to do since I started racing and when the opportunity came up, it was difficult to say no," Turner added. "Every time I go out there, I want to win, I don't like losing at anything, so I will put it all out there every time and try and win as much as possible or, if not, team riding, because that is just as valuable and looking out for your team-mates."
Although this is Turner's first crack at it with a club in the UK, he has ridden at Plymouth before.
"A couple of years ago a friend was riding at Somerset and I came over with him just for a little holiday and I had a go around Plymouth. It was good to get some prep time around there, so I am a little bit familiar with it, yeah." Turner added.
"It was good, we have a track back home in New Zealand that is quite small as well and I used to rise that a little bit, so it wasn't too much of a shock being a little smaller than usual, so I think we will be fine around there."
Turner will also arrive in good shape as well having spent the winter riding in Australia. He is bringing his own motor, but has also purchased plenty of equipment from James Sargent.
"I have bought some equipment of James Sargent and I have an engine over here that I am going to bring over," he said. "I think there's a practice at Scunthorpe on the 11th, which I want to get over there for, and then on the 25th at Plymouth, so I'll be able to synch up James' bikes and if they aren't quite what I usually ride, then I will chuck my own motor on that I know is good and works everywhere.
Looking ahead to the season – and outlining his targets and aspirations for the year – Turner said: "I want to do well for myself – and for the team, of course. It would be nice to get out of the reserve rankings towards the end of the season, but I want to hit my average every time and at every track we go to, I want to score good points, I don't want to give away any points anywhere I go."
Image credits: Judy Mackay