Plymouth Gladiators have confirmed that they will be joining a short NDL (National Development League) season due to start in mid-August.
The League is likely to compromise 5 or 6 Clubs; and is subject to the Club obtaining the necessary consents from Plymouth City Council; to operate at the amateur level designated the NDL by the Sports Promoters the BSPL (British Speedway Promoters Limited).
Club Promoter and Managing Director Mark Phillips confirmed that the Club, who have staged a series of Private Practice sessions on alternative Saturday afternoons since the end of June, have learned a lot in terms of the strict Covid 19 rules that need to be enforced during the Practice sessions and were well advanced with the logistical issues involved in operating at NDL level where small crowds will be permitted, providing certain ticketing protocols are maintained.
The Club understand that a draft Fixture List will be issued shortly and that action should commence in mid-August.
The necessary Local Authority consents should be received early next week, and progress is also being made on the innovative PACE – Plymouth Arena Community Events initiative with some initial Events anticipated for early Autumn, if the necessary approvals are received in time.
Plymouth Gladiators have been forced in to making a change to their initially declared 1-7 and have also confirmed the identity of the 7th Rider for the shortened 2020 campaign.
Mark Phillips explained the situation in detail-:
"We fully intend to run with the originally declared 1-7 for 2020 in 2021; but I was told about a month ago by Nathan Stoneman that due to contractual arrangements with his sponsors, he could only ride for the Club in 2020 in any shortened season, if he was able to ride in both Leagues in 2020.
Having agreed to ride for Somerset in the Championship, he indicated that he needed to do a minimum of 4 meetings per week, or may have to repay a substantial part of his sponsorship back.
I've had a number of conversations with Nathan; and understood also why he couldn't attend any of the private practise sessions on Saturdays that all other Team Members have attended at least once due to work commitments, as Saturday was one of two guaranteed days in each week that he had work.
When the Championship season was cancelled last week, it became clear that we may need to make an urgent change as Nathan had told me that if he could not race he would go fishing in 2020 and be back in 2021.
We then discovered that almost all the Teams in the short NDL League will race on a Saturday plus one on a Friday which will involve a Northern Tour weekend, meaning that with Nathan being unable to 100% commit to riding for Plymouth in 2020, we reluctantly had to make a short term change.
I've made it clear to Nathan on the phone and in writing that he remains key to plans in 2021 and beyond.
We stood by Nathan last season when he took a short break from the sport after being released by Birmingham, and although he is upset by the decision, its due to him being unable to commit 100% to the short season, that means a reluctant change in the Team.
It is important we field as strong a Team as possible, especially as Nathan is a key player on his average of 8.22.
We also needed to fill the 7th spot for 2020 and had a place with an average of up to 3.13 points available to us.
We considered a number of candidates for the 7th place in recent weeks, some have disappointed by not turning up, or deciding not to ride when invited, and a few others who show great promise are not quite ready yet for the NDL standard of Racing but good prospects for the future.
We've been told Kent, Mildenhall and the Isle of Wight will not be running in 2020 so riders originally declared for those Teams have become available to us.
We had conversations with a number of Clubs and Riders seeking permission to make formal approach to Riders and have 11.35 points available to us.
We could have a heat leader with an average of up to 8.35 leaving space for a 3 point rider.
That ruled some possible candidates out and we also discussed terms with a couple of riders around the 8 point mark, but were unable to find any suitable rider around a 3 point average, willing to come to Plymouth to go in to the second string spot we have to fill; as we already have Sheldon Davies and Arran Butcher in our reserve slots at 6 and 7.
So we've decided to bring in 2 exceptional young English lads for 2020 only, who we're sure will be very popular with our Supporters. Chad Wirtzfeld joins us from the Isle of Wight on an average of 3.81 and Jason Edwards joins us from Mildenhall on an average of 7.53.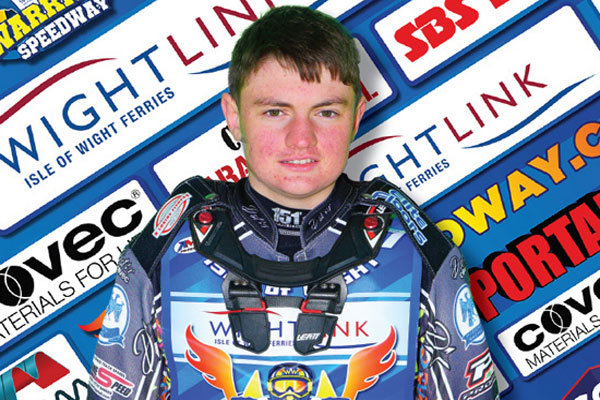 That makes a total of 11.34 leaving us 0.01 under the Points limit. We're very grateful to Isle of Wight and Mildenhall for their permission to use Chad and Jason in 2020, we are absolutely clear that both riders will revert to those Clubs in 2021 on the same averages as 2020.
We think that both riders have a strong possibility of significantly performing above those averages and pleased to have 2 exciting youngsters on board with us for a few months.
We look forward to welcoming Nathan back in 2021 and will continue the search for a 7th rider for next season.
We hope to have more news next week about Fixtures and Ticketing arrangements.