UPDATE. Please note that tickets for the Three Team Tournament have now sold out. Thank you for your support. Please note that this is an online ticket event only. No card or cash admission on the night.  You can register for the wait list, should any purchased tickets be released.
Supporters wishing to travel to Plymouth on Tuesday night for the 3 Team Tournament between the Plymouth Gladiators, Isle of Wight Warriors and an Eastbourne HG Aerospace NDL Select Team are advised that only a small number of tickets remain.
It is expected that the "House Full Signs" will go up after the weekend, so if you wish to attend the exciting opening Meeting of the season at Plymouth on Tuesday 8th September at 7.00pm, the advice is to purchase your Ticket today by clicking here.
Live stream will be available
The Directors and Management of Plymouth Speedway have announced that the match will also be available for LIVE STREAMING for those unable to attend in person on the night.
Plymouth Speedway media consultant Gerry Sims, via his Blumonkey Media Company creation The Speedway Chat Show, will Live Stream the event on Tuesday night featuring all 15 heats, plus a specially sponsored "Dash for The Cash" 16th heat sponsored by Danish based GP Speedway Spares supplier, KL Support.
Sims co-hosts The Speedway Chatshow on Facebook with Aussie legend "The Sydney Lip", Shane Childs,
Plymouth Gladiators Speedway are delighted to launch this exciting innovation for the three-team tournament and Speedway supporters from around the globe can find out more and enrol to watch the racing in full by visiting "The Speedway Chat Show" on Facebook here and clicking on the events tab and following the simple booking Instructions.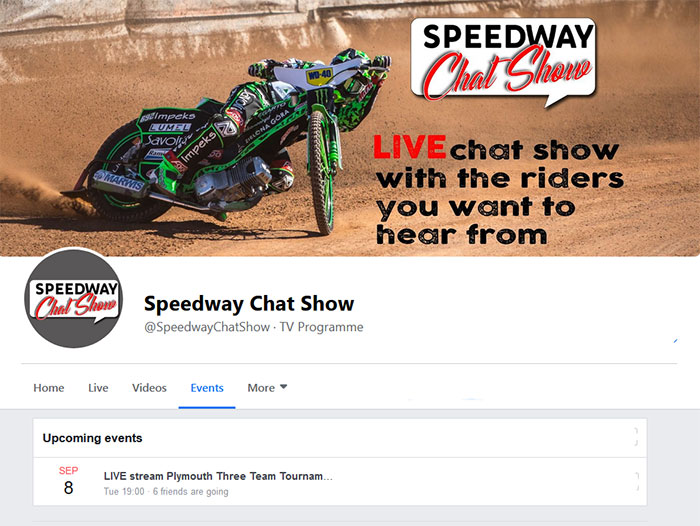 A small fee of less than £4.00 will give access to all 16 races (Live and available to watch at any time after the event) and also interviews and further features during the evening.
Plymouth Managing Director and Promoter Mark Phillips said: "We can't wait for Tuesday night.
"Fingers crossed the weather looks set fair, with a capacity crowd under Covid-19 regulations expected.
"We have some outstanding NDL and young British talent on show, and to cap it all a real game changer, with the Live Streaming courtesy of The Speedway Chat Show.
"We have bold ambitions for the future of Speedway and our stadium facilities to showcase Devon and the South West.
"We look forward to putting our marker down on Tuesday night."