Plymouth Speedway are delighted to announce the launch of their 2022 Season Tickets for their Championship Plymouth Gladiators and National Development League (NDL) Plymouth SWTR Centurions Teams.
Supporters have the choice to purchase Season Tickets for all areas of the Stadium either for ALL Gladiators and Centurion Fixtures (Championship and NDL combined) or just Championship (CL) Fixtures.
In a further enhancement, specific seats are now bookable in the All-Seater NHS Home Straight stand.
To simplify ease of access; each of the 400 NHS Stand Seats has been individually numbered.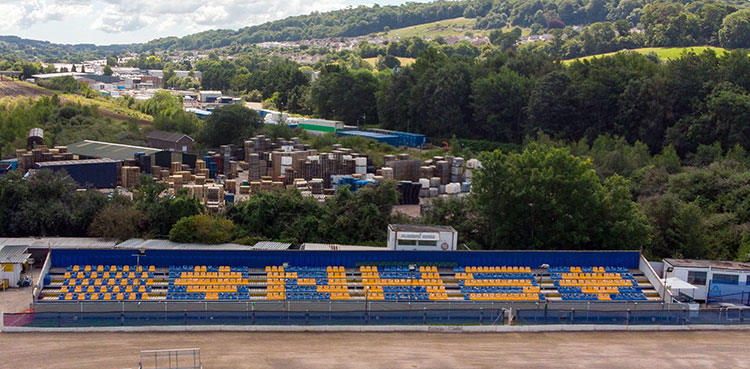 There will be 6 Sections (from left to right in the picture above) 5 Rows (top Row is Row 1 and bottom Row is Row 5) and Seats will be numbered from left to right (Seats 1-80 top row / 81 to 160 second row etc,down to seats 321 to 400 (Bottom Row).
To give a specific example, the 5th Section (The "S" of the NHS Stand) is the one closest to the Starting Gate / Finish Line with Seat Ranges of 54-66 (top row) 134 to 146 (second row) 214 to 226 (third row); 294 to 306 (fourth row) and 374 to 386 (bottom row).
Season Tickets can also be booked for Area 2 which is the Back Straight stands and Top Bend (Flyover Bend) Standing Areas and there are unreserved seats available to in the First Bend Stand (top row only). To reserve spaces in the Disabled Stand, which is situated adjacent to the entry to the back straight of the Track, please contact us once you have purchased a ticket.
To purchase Season Tickets please click here to visit the online ticket store, where a full explanation of the pricing structure for Adults and Children, and the cost of individual meetings is available.
Once the number of tickets have been selected, fans purchasing NHS Stand Tickets need to scroll down to select the specific Seat(s) before paying and checking out, whilst for all other Areas simply decide which type of ticket you require and then proceed to payment and checking out.
Please ensure that you use the correct email address. Once payment is made you will receive an email receipt (please check your spam box too)
Along with the electronic receipt, all Season Tickets holders will be sent a Season Ticket in the post efore the start of the 2022 season ( which is anticipated to be in late March 2022).
Season Tickets will be posted from Tuesday 1st March or can be collected from the Stadium from that date or at the first Match. All Season Ticket Holders will be e-mailed with full collection / delivery options on 15th February 2022.
All queries should be referred to admin@plymouth-speedway.com (please note this email address should be used and not any old ones) PLEASE allow 24 hours for a response. Queries cannot be answered from any of the Official or Unofficial Social Media Channels (Facebook; Twitter etc) 
Main image credit: Jon Spoard
Click on the image below, to visit the online store